Now that Spring is officially here and Summer is quickly approaching, I have been gathering a list of the best straw bags and totes to add to your collection. We have been seeing this trend of wicker and rattan accessories emerging for a few years now, and I think it is here to stay! Keep reading to see why you need one and a list of some of my current favorites.
Why You Should Own a Straw Bag
Straw bags come in a wide variety of styles from beach bags to clutches.  You can carry this trend that never goes out of style with you wherever you find yourself this Spring or Summer. Take this large straw tote that I own, for example. Bring it with you for a day at the pool, the Farmer's Market, or use it as a laptop bag to the office or coffee shop.  A basket bag would be the perfect accessory dressed up for date night or dressed down in a casual outfit for daytime. The tones of the natural fibers allow them to be paired with any color outfit, making them the perfect neutral accessory for Spring and Summer.
Best Places to Shop
I am loving Pamela Munson! This brand is devoted to straw accessories and offers an amazing collection of products. Her natural fiber bags have the sweetest feminine details such as hand stitching, pearls, and beautiful ribbon accessories. I personally own a few of her bags like this darling floral clutch my parents gave me for my birthday.  Her signature basket bag with grosgrain and eyelet handles is a classic. I have had this woven clutch with pearl clasp for several years and it still looks brand new.  She makes such high-quality bags.  her
If you like to personalize your bag with a monogram, Mark and Graham is the place to go. They have a variety of fun options that are under $150.   There are so many to choose from!
J. Crew has great options currently for straw and rattan bags from classics to fun details. So many of these woven pieces could be taken anywhere. This Jolene rattan-inspired bag would be perfect as a day bag and then on another day to the beach!
Some other places I'm loving to shop for straw bags these days are Tuckernuck, Shopbop and Nordstrom!
Beautiful Straw Bags Styles to Add to Your Collection
1. I am in love with Pamela Munson's collection.  I have the smaller version (on preorder!) of the one above but also love this tote version.  It checks all the Spring Handbag boxes for me: Feminine, Classic, Bamboo Handle, and Straw.  Truly no one does this style bag better than Pamela and her Spring Collection is amazing and the collection with Aerin Lauder is beyond!  I just received this pink floral beauty!
2. How beautiful is this mix of cane and leather? I love this combination. This tote is small enough to be an everyday bag but big enough to take to hold all of your things!
3. The new version of the straw clutch I've carried for years.  It's great styled for a date night as well as a vacation!
4.  I'm not sure there is anything more chic and understated than a French Market Tote.  Tuckernuck has this one for only $55!  You can find personalized basket totes here.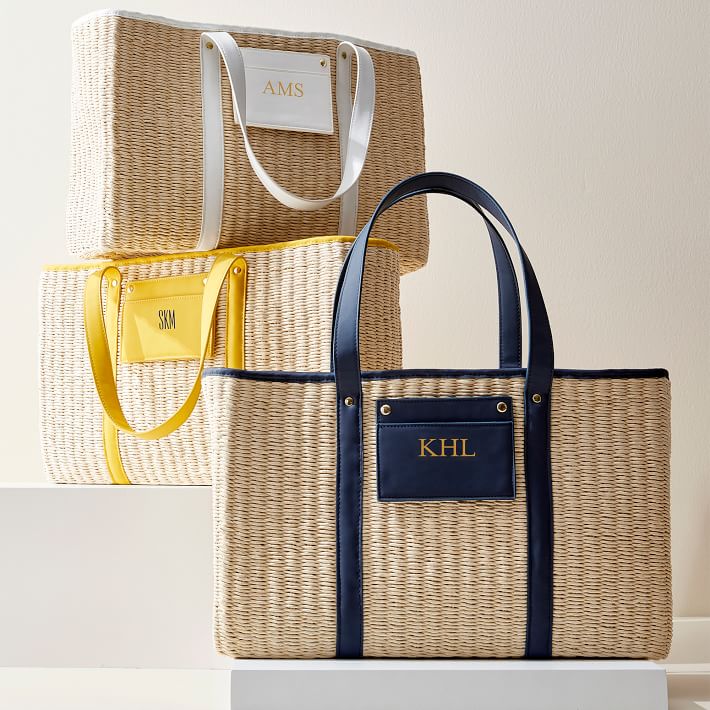 5. Did you know you can even personalize your straw bags? You can add your initials to this must have new arrival bag from Mark and Graham.
6. I love this woven bag with navy fringe ribbon trim from Pamela Munson. Such a fun and feminine twist on a straw bag!  I have it with neutral handles and love carrying it as a day bag and at the beach!
Shop more of the best straw bags and totes to add to your collection in the boutique below!
LOOKING FOR MORE INSPIRATION?
Discover the Best Style Trends for Spring…And these other popular posts!
xo,
Alicia
SHOP THE BEST STRAW, RATTAN AND WICKER BAGS